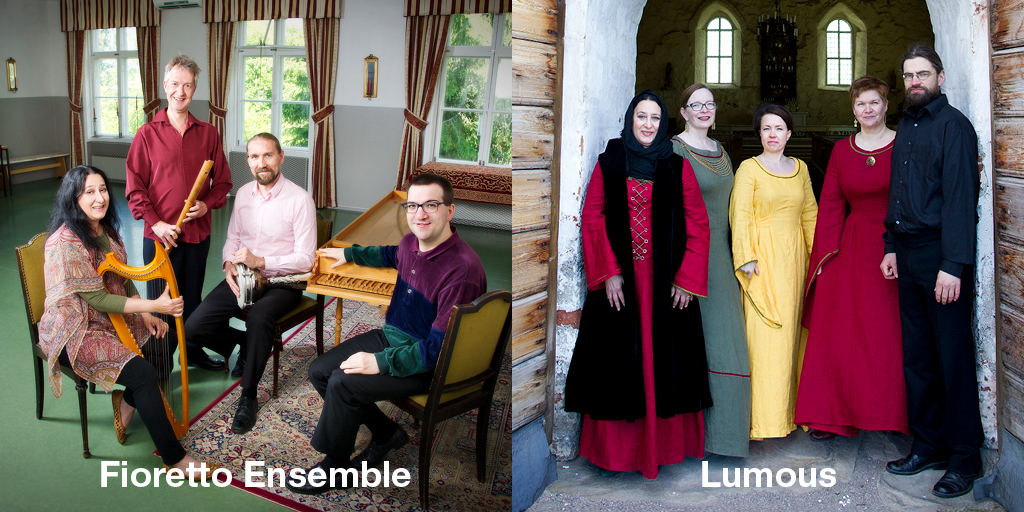 From the street
of the church
Renaissance and Baroque music concert
The Renaissance not only brought new ideas and discovery but it was also a time of travel and a flourishing of the arts. The flourishing of trade and New World riches allowed for a support of the arts by the church, courts, and even the newly rich merchants. Artists travelled broadly and frequently, working for diverse courts and churches throughout Europe. This made it possible for the dissemination of musical styles throughout Europe and a cross pollination of these styles. "Great hits" in Italy or Germany would become great hits in Poland, England, Spain or France. Songs that crossed borders often became translated or adapted into the new language.
These translated pieces are called contrafacta or parodies of the original. Also, popular tunes became the subject of other reworkings such as variations and bases for Masses. With the Reformation, it went a step further and became a source in creating a new church literature that would speak to the people in its simplicity and familiarity.
Luther, himself an accomplished musician and composer, knew the strength of music in uniting a congregation and asserting faith. He created a new hymn book where the songs would be in the vernacular and the melodies accessable to the common people. For this purpose, he himself and some of his closest associates composed pieces. In addition to this, they gave new religious texts to some of the most popular songs of their day. These are the pieces (contrafacta) that we will focus on.
This program will present some of the most popular pan-European pieces of their time. Except for the first piece, Wohlauf, gut G'sell von hinnen, all of them remain in our hymn books. We bring you some of the secular versions as well as their rebirth into religious life from their earlier Renaissance beginnings to their Baroque versions culminating in Bach. These songs have survived the test of 600 years and continue to bring what was once the joy of the streets the joy of the church.
Welcome to the concert! 
Debra Gomez-Tapio 
———————————————————————– 
Vocal Ensemble Lumous

Lumous is a professional early music vocal ensemble whose repertoire ranges from Early Medieval to the Baroque. It was founded in 2007 and the singers are, Anu Mattila, Kaisa Kelloniemi, Elina Aho-Kuusama and Lauri Solin.
The band sings:
Debra Gomez-Tapio, sopranos
Kaisa Kelloniemi, sopranos
Anu Mattila, sopranos
Elina Aho-Kuusama, counter violin
Lauri Solin, baritone
Fioretto Ensemble
Fioretto Ensemble, founded in 1996, is a professional early music ensemble that expands and contracts according to the program and repertoire. The basic members at present are Janek Öller-recorders and bagpipe, Ilpo Laspas -harpsichord and organ, Mikael Heikkilä- percussion and Debra Gomez-Tapio, harpist, singer and director.
Musician group:
Debra Gomez-Tapio, harps and vocals
Janek Öller, recorders and bagpipes
Ilpo Laspas, organ and cembalo
Mikael Heikkilä, percussion and hammer dulcimer